Restaurants. Here's How to Beat Coronavirus. Ship Meal Kits.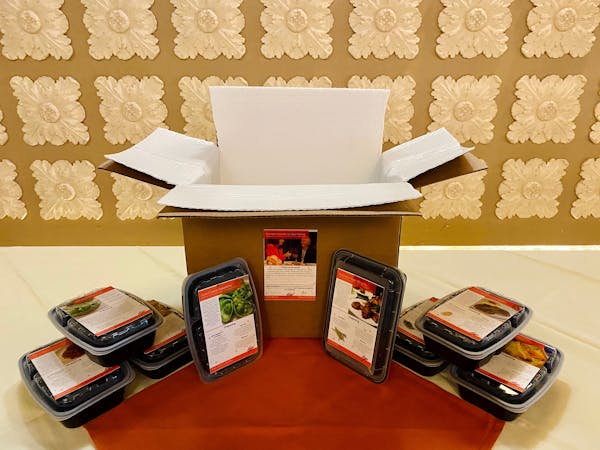 Please share this with anybody you know that owns a restaurant, no matter the city, or friends that can help spread the word. We just want to help the restaurant industry whatever way we can. This is a lot of work but it addresses the true problem we're all facing right now. People are scared to dine out. This program consisted of many long nights of research/work that we're ecstatic about but we'd be doing a disservice not sharing to an industry in grave danger. We're revealing everything on how to start a meal kit program (you won't find this on the internet for free). We've shared the best priced options we could find for everything. It costs us about $1,000 in materials. You can do this with a group of four people if everyone tackles different tasks, or one if you're on a budget and a bit crazy. You're not restricted from quick time frames to fulfill hungry customer's orders, OR delivery radius. It opens up your customer base. Coronavirus gave a Mike Tyson left hook to Brick and Mortar businesses especially restaurants. There's no coincidence Amazon is breaking records in sales as we speak. Restaurants must shift from retail to online quickly The margins make sense through meal kits. You've already got all the permits to do this with your kitchen so you're halfway there.
We'll start by discussing roles, what you need, Identifying your niche, proving it works, reasonable margins, building/design into your website, how to ship, and finally advertising. Keep in mind if you're on a budget the internet is amazing. One person can do all of this but it will be a lot of work.
Roles/What you need
Website Maintenance (Person 1)
Custom build store into your site, or create a link on your site to a Shopify store. This is probably easier. Anybody can do this.
Create store and products to sell.
Make sure you can restrict the delivery to local (We will be sending 24 hr Ground shipping UPS)
Integrate bank routing information.
Integrate a shipping service so printing labels is easy (We use Shippo)
Be able to produce order reports for the Project Manager.
Added bonus is optimizing the store. For example. Email automation for customers who abandon checkouts etc.
If you're on a slim budget there are a lot of great tutorials out there online for free but that will be time consuming if you're not ready. If this sounds like too much I'm sure there's somebody you know who is technically able and willing to work out a deal.
Graphic Designer (Person 2)
You'll need someone to create pamphlets, branding, and thumbnail images for your website as well as prepare them to print.
Creating branded advertising images.
They'll be familiar with setting the pictures to the right dimensions for your website.
This can be Person 1 and 2 if you're lucky.
Tight budget, can use canva.com or hire a freelancer.
Advertiser (Person 3)
Creative person. There are a million ways to sell this.
Social media campaigns
Use your email contacts
Blog post
Reach out to communities online
Press release
In House Project Manager/Chef (Person 4)
Work with the kitchen to figure out the menu and options to package.
Needs to be able to plan in order to re-order ingredients from distributors to fulfill orders. - This is very important
Fulfill the orders from the order sheets.
Materials
Insulated box liner boxes, or Thermal Box Liners we use Uline (We'll explain how to find your boxes)
Small containers for food (Would share ours but don't want them to run out of stock on Amazon *hint* *hint*)
32oz gel packs also use Uline. (Super important you don't get small gel packs. We wasted months shipping with small packs that spoiled the food)
Come up with menu items with a focus on what you do best. (For instance ours is Italian food/fresh pasta)
Pamphlets designed in box (4x6 and found GotPrint has the best rates online.)
Shipping labels from third party shipping providers. (We use Shippo)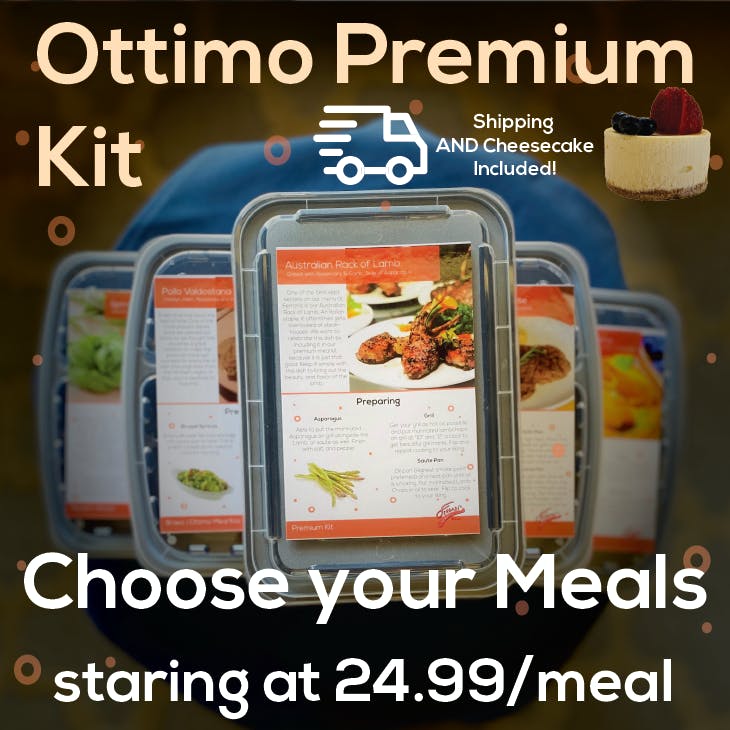 Identifying your niche
It's important to try and create your meal kit program around something special you do. For example, we've been blessed to have Stefano Secchi from Rezdôra start his career at Ferrari's Italian Villa & Chop House. His main focus has always been fresh pasta. He brought that concept up to New York and opened up the number 7 new restaurant in the USA according to Esquire Magazine in 2019. Ever since then we realized how much of a void there is with fresh pasta in Dallas and the south. It's like being born again when compared to box pasta. We also offer great steaks, and classic Italian dishes but the home made pasta is something we want to show to Dallas, and hopefully other states soon how incredible it can be. What does your restaurant do which can be celebrated? Do you make tamale (I think this is an industry destined to blow up when someone does it right) infused dishes? Does your restaurant have different ways to make a signature Indian dish? These are all questions to ask to start.
Proving it works
We spent a lot of time trying to figure out what's the best economic packaging for the meals to show up in great condition without breaking the bank. After a long search we came to Uline and thought insulated coolers would be the answer. This is good if you plan to ship out of state over a few days but to start it's best to only ship locally with 24 hours ground. We realized the insulated box liners were a more economic approach, but Jane and Francesco wanted to use bit higher quality box to ensure the product shows up in perfect condition to our customers. We compromised, and went for a better insulated pricier Thermal box panels. What we did then was figure out how many meals were going to be in our packages. We settled on (4/8) and a premium kit up to 7 meals. Figure out how many meals you will add to your package, know your food cost and try to stay around 35-45% profit margin. (45% profit margin is preferred specifically so you can sell it convincingly with discounts and influencers) Once you know how many meals you will offer then it's super important to figure out how to stack your meals in your boxes to buy the best box options that fit your program. In this here chicken scratch drawing you can see our first attempt trying to plan the meal containers inside the insulated boxliners with container prices, gel packet prices, and estimated shipping.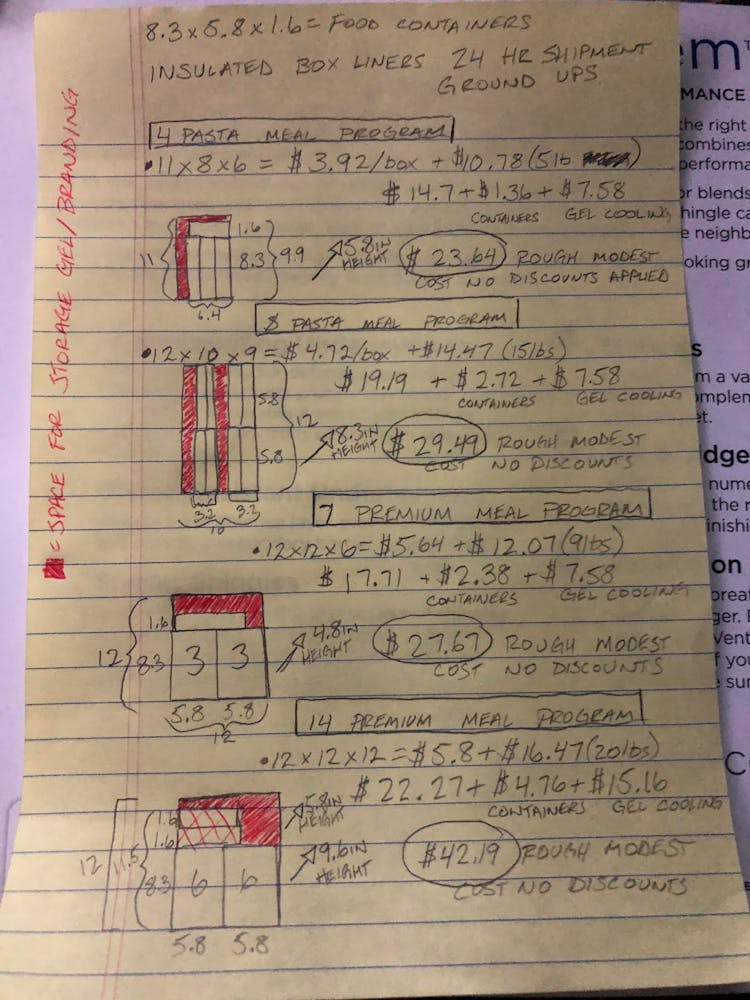 To get your margin you've got to add your food cost on top of your shipping costs and try to shoot for a price giving you a 35-45% profit margin. That way you're not setting offensive prices and still able to offer promotions/pay the bills.
Building/Design into your Website.
I would work with something that's more ecommerce friendly that allows for you to deliver with a restricted radius without adding fees. If your website is already built on a platform maybe research if you can integrate a Shopify or Woocommerce account for a specific landing page on your website navigation bar. We had to jump multiple hurdles and it was difficult. There's a lot to do here and rather not make this a novel but snoop around on our Meal Kits by Mail to get an idea of how to set it up. Go all the way through to checkout and take notes. Make sure your orders integrate with your preferred third party shipping company. The most important thing here is to make sure you restrict your orders within your city limits to start. To give your kitchen some cushion to work out operations, set your products to a 7 day product lead time until you get everything figured out. Having the ability for promotional codes is crucial which we'll elaborate more in Advertising. Lastly, you're going to have a lot of labor packaging, and organizing. It's important to add a small "handling" fee so you don't kill your kitchen with labor. We did $5/box.
For design this can be costly but we were fortunate to be able to do it in house. If you're not able to afford doing this with a pro(not saying we're pros by any means we just have the programs), it might be wise to start a branding competition on Freelancer. Plus you'll get the work done fast. Make sure you know the dimensions of everything you're asking these guys before you start the competition. Even without Freelancer, there are options out there. It would be great to have professional pictures of the food you're offering but if that's not possible there are some amazing tutorials online on how to take decent pictures in portrait mode on your iPhone. Our advice would be to take a look at what some of the pros are doing in the meal kit industry, and try to emulate their branding. Another awesome trick (if you have Adobe Illustrator) is to download "Vector templates" and adjust them to fit your branding. What you'll want to do is make some pamphlets that can be glued onto your meal containers, and think of a promotional item. This is a great opportunity to impress your customer so take advantage of it.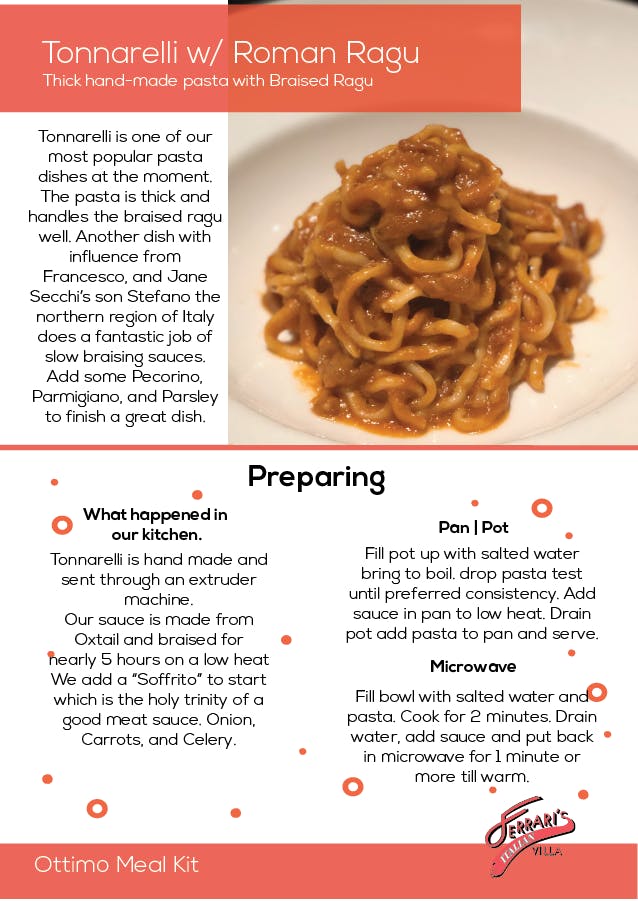 After sourcing three different print services online(Vistaprint | Uprinting | Gotprint) for these pamphlets Gotprint was the best by far. Don't use Vistaprint. They're overpriced. Another thing you will need is thumbnail images designed for your program. Again, snoop around on our Meal Kits by Mail page to see all the different images we used. Lastly, you'll want to create some images for your advertising campaigns so before you run to the next step don't forget about this. Once you've got all your branding and packaging worked out. Make sure to take a mock picture of the containers outside your shipping package box for advertising so customers online can conceptualize what you're offering. This is new to us so we're not sure we've done the best job at design or branding. Surely there are brilliant people that will blow us out of the water just sharing what we've done.
How to Ship
Now that you've figured out your meals, boxes, and ordered materials. Set up your UPS/FedEx shipping accounts through third parties like Shippo etc. Don't create your own account through UPS or FedEx because these third party services get without a question the best shipping rates since you're shipping from their account that fulfills millions of orders. It's also important that whatever third party you use integrates with your ecommerce store. I mentioned UPS/FedEx because those are the best standard if you plan to go out of state. USPS priority 1 day also works for local. Gel packs are necessary. We sent many failed shipments because we were using 6oz packets which were too small. Make sure to use at least 32oz gel packs and quite a few depending how many meals you send. This simple problem cost us months to figure out so don't let it happen to you. These gel packets show up unfrozen so you've got to freeze them. (If you're ramping up your volume you can buy pre frozen gel packs.) Before taking an order, you must test out by shipping a full order somewhere in your city to see how everything works. To test it, place the order on your site and apply a 100% discount through a promocode. The shipping label should populate in your third-party shipping integration (Shippo etc.) and purchase that label. Print it, attach it, and send it off 24 hour ground. Analyze your new system. Learn from this order how it's going to work on all ends when a real customer sends you the first order.
Advertising
Here's where things get interesting. There are so many options on advertising this we'll just stick to a few great ways to make it work for you. Rather grab your attention from the start so this is our best strategy. Approach local bloggers, or local influencers, sales guys that fit your niche. After you've made contact with one that you like, here's where the promo codes are your best friend. Remember trying to be around 45% margin? This gives you room to pay your influencers on every kit they can sell. The way they provide a great sales pitch to their following is by giving them a 10% discount with a unique promo code you've generated for them. In order for them to really push you, pay them %5/package they sell or whatever $ works for you. Since they are using a unique promo code you can track exactly how many packages the influencer is selling. It's a win-win. We've also got a gentleman that we pay 5% to approach apartment complexes to sell to them. We give him a unique 10% discount code to use so the apartment tenants have a good incentive to buy plus we can track who ordered with his code to pay him accordingly. If a salesman like that gets a full complex you can rent a truck and deliver the packages yourself all to the complex greatly decreasing your shipping costs from UPS.
You need to provide incentives for the customer to complete their check out so cutting your profit margin is the way to do it. If you're getting your brand out there, essentially creating revenue while advertising your restaurant, and grabbing email addresses at the same time that's a win.
There are countless ways to advertise this. Be creative. Use traditional measures. If you've got an email list utilize it. Social media ads are obvious, and use unique promo codes to help push the customer through the shopping cart. Post about your program in local communities. Reddit is a great place. Write blogs (like this one). Press release. Reach out to local news. Work your promo codes. There are so many things you could do here.
We're Here for You Restaurateurs.
Practically poured out all our secrets and hard work over the year full of uncertainty out of love for the restaurants. We hate to see others struggle so hopefully this will help someone out there. Restaurants have been put in an ugly spot. Customers want to still support us but they're scared. Alleviate the concern with this program. Bring your kitchen to their door. Wishing nothing but the best to every restaurant experiencing hardships. Keep your head up. You got this.
If you'd like to take a look at how we set up ours for ideas, or If you're in Dallas, and want to give our meal kits a shot; go ahead and have a 10% discount by using the code "MEALBLOG" at checkout. You can find our program here!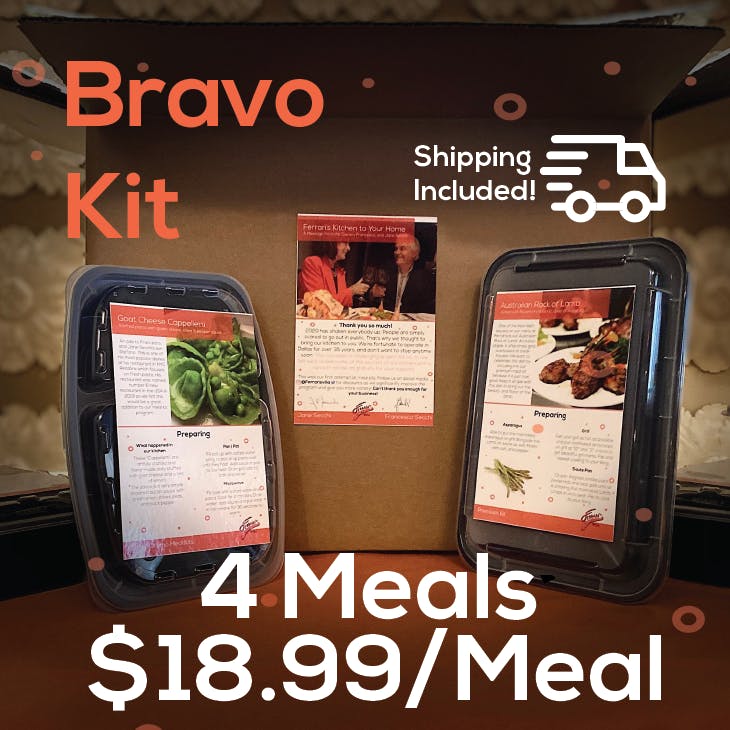 Following us on social media [Instagram | Twitter] @Ferrarisvilla would make us a happy pasta loving family. We try to show great food, have a sense of humor, and embrace our community. Join our email list(our emails rock), or just share this for the sake of the restaurant industry. We'd greatly appreciate it.